Charity News
August 27th, 2018
Worthing Mental Health Awareness Week 2018

The organisers of Worthing Mental Health Awareness Week (WMHAW) now in its 6th year are thrilled to announce that they have a new website!
www.worthingmentalhealthweek.co.uk

A crowdfunding campaign whereby gifts in kind were recognised by the Worthing County Local Committee who then generously awarded a grant to cover the cost of the website. It is the first grant in the Worthing area to be awarded under West Sussex County Council's new funding scheme.

The website was designed by Worthing website creator Stacey Church from Lime Pixel https://limepixel.co.uk who has worked tirelessly in order to get the website up and running in time for the annual Worthing Mental Health Awareness Week which coincides with World Mental Health Day (10th Oct).

Events for this year's Worthing Mental Health Awareness Week (8th - 13th October at Offington Park Methodist Church, South Farm Road by Broadwater Green) will be updated on the website, on Facebook and via #WMHAW on Twitter.

The aim of the Week is to challenge the stigma around mental health and to provide good quality information in a safe and non-judgemental environment.

Most of the events are free and are open to all. Local charities, organisations and groups will have displays in the 'Information Centre' and there will be a variety of workshops and talks designed to promote positive mental health throughout the week.

The week will be launched on Monday 8th October at 10am by the Mayor of Worthing Cllr Paul Baker followed by the Mayor's Chaplain lighting a Peace Candle with co-founder Bob Smytherman acting as Master of Ceremonies.

The key note presentation this year will be by representatives of the local branch of Soldiers, Sailors, Airmen and Families Association (SSAFA).

Organiser Carol Barber said she was "delighted that SSAFA had agreed to talk to WMHAW about the ways mental health impacted on those in the Armed Services, Veterans and their families."

In the evening there will be a special Meeting of Worthing Rethink Mental Health Carers group run by Mark Hughes with a guest speaker from Sussex Partnership NHS Foundation Trust.

Tuesday 9th will focus on keeping well in later life and include an open meeting of Dementia Friendly Worthing at 4pm.

On Wednesday 10th October which is World Mental Health Day. The organisers have asked Grassroots (a local suicide prevention charity) to deliver their SafeTALK (suicide alertness) training.
This will start at 10am and last for three and a half hours. This is the only event in the Week for which there is a small charge.
This training event is subsidised courtesy of the grant from the County Council at just £35 per person and includes a ploughman's lunch provided by Offington Church places are limited and must be booked in advance by contacting Carol Barber.

Thursday's and Friday's activities include ways of promoting self-care and emotional resilience, and also the opportunity to paint pebbles as part of Coastal West Sussex MIND's anti stigma campaign called 'West Sussex Rocks'.
For more information https://www.coastalwestsussexmind.org/get-involved/anti-stigma-and-awareness-raising

A film will be shown on the Thursday night.

On the Friday evening the week will conclude with a free concert, with a retiring collection for Coastal West Sussex MIND.
The concert is co-ordinated by Karen Simporis and compared by Guild Care Trustee Mr Percy Nowell
Read More
---
May 19th, 2018
Broadwater's Royal Wedding Picnic

The weather was amazing, the atmosphere was fantastic and we all had a Right Royal Time! June Issue of Inside Broadwater has collages of the photos from the event on 2 double spreads!
Read More
---
February 1st, 2018
Care for Veterans look for fabulous 50!

Worthing-based charity, Care for Veterans, is looking for 50 fabulous people to join its Worthing 10k running team, and help raise vital funds for disabled ex-Service personnel.
The Worthing 10k is one of the largest and friendliest running events in the south east, welcoming runners of all abilities to the flat seafront course on Sunday 3 June.
Care for Veterans has charity places for this year's race, and has already begun recruiting members for its 'Fabulous Fifty' team, who will be running to raise money for the disabled veterans who are cared for by the charity.
Christine Gillott, Fundraising Officer at Care for Veterans, said: "Running for us is a rewarding experience and we will be there to support you all the way.
"The Worthing 10k is a great event for those who want to start running but need something to aim for. Running for a cause such as Care for Veterans will really help motivate you throughout your training, and on the day itself.
"Now is the ideal time to start training, so make sure you contact us asap to secure your place."
Registration via Care for Veterans is just £21, and the charity asks that you raise £50 in sponsorship. In return, runners will receive a free Care for Veterans t-shirt or running vest, there will be a hospitality tent on race day with refreshments for before and after the run, plus entry into a prize draw to win a fabulous prize, and a party the week after the event.
If you'd like to run the Worthing 10k for Care for Veterans, call Christine on 01903 218444.
Read More
---
May 11th, 2017
Broadwater Schools will take part in this year's Children's Parade

2017 is the Worthing Children's parade's 10th Anniversary, so what better way of celebrating than to use one of the worlds most loved current children's authors as inspiration for our 'big-makes'. This year we have opened up the theme so that schools may choose any character from any Julia Donaldson book to create their schools 'big make' entry. Each school will choose a character from one of Julia Donaldson's books. Teachers and students will work with one of the Parade artists in a school based workshop to develop their character design into three dimensions. High schools also have the opportunity of joining the parade. We are expecting some fabulously exciting designs and sculptures as Julia Donaldson's work appeals to children of all ages.

On the morning of the Parade we all gather at Denton Gardens at approximatley 9am and plan to move on from there at 10am. The parade moves westwards along the Seafront towards West Buildings and then along Montague Street, all the way down to South Street; turning left towards South Street Square, the parade will then turn right onto Warwick Street and end at Steyne Gardens at approximatley 11:15-30am. The children are welcomed back into Steyne gardens by Tim Loughton and the Mayor and Mayoress along with a charity fair in aid of the Smiles Foundation. At the charity fair there will be fairground rides, hot food and drinks avialiabe and a selection of other stall as well as a plethora of children's entertainment and music provided by More FM to while away the rest of the afternoon.

Read More
---
Topics
Recent Posts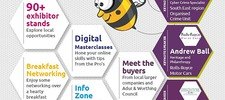 Better Business Show 2019
February 6th, 2019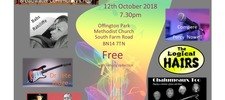 Concert for MIND (Coastal West Sussex)
September 10th, 2018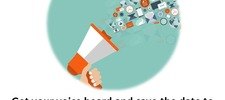 Save the date!
August 31st, 2018
Have You Seen...