Student Life
May 11th, 2017
Broadwater Schools will take part in this year's Children's Parade

2017 is the Worthing Children's parade's 10th Anniversary, so what better way of celebrating than to use one of the worlds most loved current children's authors as inspiration for our 'big-makes'. This year we have opened up the theme so that schools may choose any character from any Julia Donaldson book to create their schools 'big make' entry. Each school will choose a character from one of Julia Donaldson's books. Teachers and students will work with one of the Parade artists in a school based workshop to develop their character design into three dimensions. High schools also have the opportunity of joining the parade. We are expecting some fabulously exciting designs and sculptures as Julia Donaldson's work appeals to children of all ages.

On the morning of the Parade we all gather at Denton Gardens at approximatley 9am and plan to move on from there at 10am. The parade moves westwards along the Seafront towards West Buildings and then along Montague Street, all the way down to South Street; turning left towards South Street Square, the parade will then turn right onto Warwick Street and end at Steyne Gardens at approximatley 11:15-30am. The children are welcomed back into Steyne gardens by Tim Loughton and the Mayor and Mayoress along with a charity fair in aid of the Smiles Foundation. At the charity fair there will be fairground rides, hot food and drinks avialiabe and a selection of other stall as well as a plethora of children's entertainment and music provided by More FM to while away the rest of the afternoon.

Read More
---
May 9th, 2017
Save Our Schools

Read in June's issue about a 300 strong action group formed by a group of parents "around a kitchen table"
Read More
---
March 2nd, 2017
The Governors of Worthing College announced the appointment of their new Principal

Roy Bowden (left of photo), Vice Chair of Governors at Worthing College, who chaired the selection panel, said, "I am delighted to announce that Paul Riley (centre of photo) has been appointed as the permanent Principal of the College. As he is currently Interim Principal his appointment takes effect immediately allowing him to continue the fantastic work he has been doing since September 2016 to lead the organisation to our goal of becoming an outstanding college in the next three years"
The selection panel, made up of Governors, took input from staff, students and external stakeholders, all of whom had the opportunity to meet the six candidates to ensure the process was robust and transparent. There was considerable interest in the post resulting in a strong field of potential candidates.
After a rigorous two day interview process the Governors decision was unanimous and they are confident that the decision is best for the college and the community. They concluded that Paul has the right leadership qualities to inspire the confidence of governors, staff, students and external stakeholders alike, to ensure that Worthing College is recognised as a truly outstanding teaching and learning environment.
Chair of the College's corporation, Paul Amoo (right of photo), commented: "The permanent appointment of Paul Riley as Principal of Worthing College comes at a time of considerable investment in new facilities, and a commitment to develop a reputation for outstanding teaching and learning. Paul's significant experience and skills complement those of the excellent staff, and his appointment will be pivotal to these developments as we move forward to become an outstanding college in all aspects of our provision not just for our students and staff but as an effective partner playing a central role in the local Worthing and Adur community"
Paul Riley in response to his appointment said "I am thrilled to have been given the opportunity to be the guardian of the Worthing College community that I so passionately believe in. I am relishing the prospect of leading the organisation with the support of everyone involved in the appointment of the new Principal and continuing with the innovative work we are already doing to create an exciting and dynamic college in the heart of our local community"
Read More
Topics
Recent Posts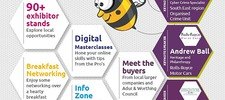 Better Business Show 2019
February 6th, 2019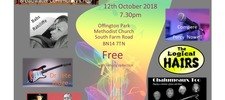 Concert for MIND (Coastal West Sussex)
September 10th, 2018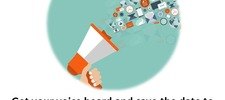 Save the date!
August 31st, 2018
Have You Seen...