Worthing
February 6th, 2019
Better Business Show 2019

Better Business Show
13th February 2019 10am – 4pm
Worthing Town Hall and Assembly Hall
An event not to be missed – FREE to attend
With a strong focus on 'Buy Local', this event is a 'must' in the 2019 business calendar for ALL businesses in Worthing & Adur, both large and small.
Bee part of the buzz at The Better Business Show!
• B2B Exhibition - Over 90 stands, meet, network and introduce your business. You'll find everything from local manufacturing companies, a wide range of professional services, construction companies, health and fitness providers, and caterers offering a great lunch!

• Info Zone - A hive of information for start-ups, growing and established businesses including information about grants and finance. Come along and meet the Coast to Capital Growth Hub team and find out what's on offer.

• Growth - Opportunities to meet buying teams some of our areas larger companies

• Be Inspired - Don't miss the Keynote speakers, they will be sharing their journeys to success.
o Andrew Ball, Head of Corporate Relations, Heritage and Philanthropy, will share the history of this prestigious brand we all love - Rolls-Royce Motor Cars
o Kathy Caton, Founder and MD of Brighton Gin, Brighton's first (legal!) distillery, talks about taking the multiple award-winning super-premium Brighton Gin to the city and beyond.

• Be Informed - Keep up to date with the latest cyber-crime trends, threats and vulnerabilities. Keynote Speaker Chris White, Police Cyber Security Advisor for the South East Region Organised Crime Unit will guide you through the cyber frauds and scams.

• Connect - Enjoy some networking over a tasty breakfast or a light lunch, a place to meet and mingle at the Lunch Box
• Promote - Meet, network and share experiences at the B2B Exhibition with both new and established businesses. Who knows, you could even pick up some new clients!

• Digital Masterclasses – Top tips on Social Media Strategy and Digital Marketing – trust us, you don't want to miss these!

Make the most of the day, network at the B2B exhibition, learn from the experts, be inspired by the speakers, connect with the local business community, snap up the show offers and leave with a wealth of information - and those all-important connections to build your business for 2019. The whole day is FREE to attend – Register Now at www.worthingandadurchamber.co.uk
This event is collaboratively delivered by Worthing and Adur Chamber & Adur & Worthing Business Partnership.

For more information and to keep up-to-date with the developing programme visit www.worthingandadurchamber.co.uk
Read More
---
August 31st, 2018
Save the date!

Get your voice heard and save the date to attend your next local meeting:
7.00 PM on Monday 5 November 2018
Worthing Library, Richmond Road, BN11 1HD
Read More
---
August 27th, 2018
Worthing Mental Health Awareness Week 2018

The organisers of Worthing Mental Health Awareness Week (WMHAW) now in its 6th year are thrilled to announce that they have a new website!
www.worthingmentalhealthweek.co.uk

A crowdfunding campaign whereby gifts in kind were recognised by the Worthing County Local Committee who then generously awarded a grant to cover the cost of the website. It is the first grant in the Worthing area to be awarded under West Sussex County Council's new funding scheme.

The website was designed by Worthing website creator Stacey Church from Lime Pixel https://limepixel.co.uk who has worked tirelessly in order to get the website up and running in time for the annual Worthing Mental Health Awareness Week which coincides with World Mental Health Day (10th Oct).

Events for this year's Worthing Mental Health Awareness Week (8th - 13th October at Offington Park Methodist Church, South Farm Road by Broadwater Green) will be updated on the website, on Facebook and via #WMHAW on Twitter.

The aim of the Week is to challenge the stigma around mental health and to provide good quality information in a safe and non-judgemental environment.

Most of the events are free and are open to all. Local charities, organisations and groups will have displays in the 'Information Centre' and there will be a variety of workshops and talks designed to promote positive mental health throughout the week.

The week will be launched on Monday 8th October at 10am by the Mayor of Worthing Cllr Paul Baker followed by the Mayor's Chaplain lighting a Peace Candle with co-founder Bob Smytherman acting as Master of Ceremonies.

The key note presentation this year will be by representatives of the local branch of Soldiers, Sailors, Airmen and Families Association (SSAFA).

Organiser Carol Barber said she was "delighted that SSAFA had agreed to talk to WMHAW about the ways mental health impacted on those in the Armed Services, Veterans and their families."

In the evening there will be a special Meeting of Worthing Rethink Mental Health Carers group run by Mark Hughes with a guest speaker from Sussex Partnership NHS Foundation Trust.

Tuesday 9th will focus on keeping well in later life and include an open meeting of Dementia Friendly Worthing at 4pm.

On Wednesday 10th October which is World Mental Health Day. The organisers have asked Grassroots (a local suicide prevention charity) to deliver their SafeTALK (suicide alertness) training.
This will start at 10am and last for three and a half hours. This is the only event in the Week for which there is a small charge.
This training event is subsidised courtesy of the grant from the County Council at just £35 per person and includes a ploughman's lunch provided by Offington Church places are limited and must be booked in advance by contacting Carol Barber.

Thursday's and Friday's activities include ways of promoting self-care and emotional resilience, and also the opportunity to paint pebbles as part of Coastal West Sussex MIND's anti stigma campaign called 'West Sussex Rocks'.
For more information https://www.coastalwestsussexmind.org/get-involved/anti-stigma-and-awareness-raising

A film will be shown on the Thursday night.

On the Friday evening the week will conclude with a free concert, with a retiring collection for Coastal West Sussex MIND.
The concert is co-ordinated by Karen Simporis and compared by Guild Care Trustee Mr Percy Nowell
Read More
---
August 27th, 2018
We want your ideas for Worthing community hub!
A new project in Worthing which aims to join up services and create a thriving community space is being proposed for Worthing Library – and we want your ideas!

West Sussex County Council is taking a fresh look at how it offers services to the Worthing community, including the library, children and family centre and registration services.

It is looking at whether it could bring together all three services into one community hub in the library building in Richmond Road.

People can have their say on the ideas until Monday 24 September.

An ideas zone has been created at the library especially for people to add their ideas and to see the ideas other people have come up with. People can also take part in an online engagement on the plans at www.westsussex.gov.uk/worthingcommunity

Debbie Kennard, Cabinet Member for Safer, Stronger Communities, said: "This is an exciting opportunity for us to work with the Worthing community to create a positive, inspiring and buzzing space right at the centre of our community.

"This could pull together a number of services people need all under one roof – a community hub!"

Stephen Hillier, Cabinet Member for Children and Young People, said: "It would be great to hear from lots of different people in Worthing about what you think and please share your ideas with us. We can see obvious benefits to families visiting children's services being in a location where there are lots of books and access to reading schemes. What else would you like to see in your community hub?"

Other ideas for a community hub are not limited to but could include support for young people, an outside area, better links to the museum next door, areas for start-up businesses to access and even a community kitchen.

Bringing a range of services together in one space could cut down on travel and make life easier for a range of users of the various services including parents of young children needing different support.

The library building was opened in 1974 and there have been lots of changes over the years, but this project has offered the opportunity for the county council to do a much larger scale review of how this significant community space in the heart of the town is used.

Last year the county council looked at a new way of using Findon Children and Family Centre by joining it up with Findon Library.

Flexible book shelving was introduced into the library to enable the space to be used by different services when the library is not open. The children and family centre now delivers their full programme from the library and visits have increased by 85% since operating the new co-located service.

To take part in the Worthing community hub project pop into the library until Monday 24 September.

Alternatively information about the engagement is online at www.westsussex.gov.uk/worthingcommunity.
Read More
---
Topics
Recent Posts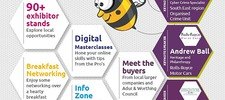 Better Business Show 2019
February 6th, 2019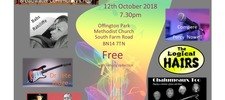 Concert for MIND (Coastal West Sussex)
September 10th, 2018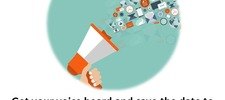 Save the date!
August 31st, 2018
Have You Seen...